Update 8/1/2022
Hello DIMO Community! This past month was all about releasing incredible new features.
10 million Connected Miles: DIMO drivers have logged this massive number since we launched.
Major App Updates: Open Vehicle ID, Glovebox, a new UI, and vehicle controls were added.
Vehicle IDs on Polygon: Hundreds of vehicle IDs were claimed by users in the first week of the Beta.
More European Car Support: Peugeot/Opel (Vauxhall for UK)/DS/Citroen will show up in the Connect flow for Europe. Connect those cars!— The DIMO Core Team
TelematicsMonthly recap of DIMO Network growth with a focus on stats and data from the project There are two metrics we're featuring this month: Connected Miles and the Odometer Leaderboard. Since launching vehicle connectivity a few months ago, drivers have logged over 10 million Connected Miles with DIMO. It's a testament to our growing community and one passionate about their cars.
We're proud of this but just getting started.Amongst the thousands of vehicles connected, we've started tracking the first of many leaderboards (to be public soon). The Odometer Leaderboard below shows the car with the most miles from each OEM. Out in front is a BMW with 271,675 miles.
All part of building a better, more data-driven picture of vehicles across the country.
Product NewsProduct announcements and news with a focus on shipping Along with a brand new UI we've introduced some important new features that lay the foundation for the next generation of apps and services built on DIMO:Vehicle Tab + Controls Beta: Lock and unlock your vehicle(s) from the DIMO Mobile App.Glovebox: Store your critical vehicle documents — Title, Registration, Insurance, Service Records, etc. — in one place.Open Vehicle ID Beta: Create the digital ID for your vehicle. >>> Read the full details about Season 1 Release 1
Vehicle Tab, Open Vehicle ID, and Glovebox
Create your Open Vehicle ID
Open Vehicle ID BetaWhile still in Beta, the Open Vehicle ID is a huge step forward for DIMO and it will eventually become one of the critical building blocks for the entire DIMO ecosystem. For the more technically inclined, you can check out the contract
, or visit OpenSea
to see the collection of user vehicles. Shipping DIMO Hardware!Shipping updates Fresh inventory arrives next week! We'll be checking the devices and testing before starting to pack them up and send them off. We've also launched a new page with all the information you could ask for on Hardware & Shipping
.
Last Ride
Some final thoughts, asks, and musings
There are some major updates to EV tax credits in the latest senate bill. Click the image of the tweet below to read a great summary. For anyone out there who drives or perhaps more importantly, owns or manages a fleet, this signals a sea change in how consumers and businesses will approach their next car purchase.
 Keep in touchFollow us on Twitter: https://twitter.com/DIMO_Network
Join us on Discord: https://discord.gg/dimonetwork
Check out our Blog: https://blog.dimo.zone
Update 3/9/2022
Hey DIMO Community Member,
A few months ago we introduced DIMO to the world and started the process of growing our project from an idea to a movement. A lot has happened since then, so here's a few highlights of what we're working on and what's to come:
The Movement will become the official monthly newsletter for DIMO
Our first network stats recapping recent growth are published below
DIMO launch in Europe will happen over the next for month with some other big milestones like earnings!
Still waiting to add or connect your car to DIMO? Log back in to finish signing up and get a head start when it's time to earn DIMO
.
-DIMO Core Team
Monthly recap of DIMO Network growth with a focus on stats and data from the project.
The last couple of months have brought some really exciting growth
:
+18,000 users signed up in the two months since launch, adding 25k vehicles
More than 1,100 cars connected to DIMO (all via Smartcar)
6,000+ members joined the DIMO Discord
All this before the upcoming launch for European users this March! Pictures are worth a thousand words, so check out the ones below:
(Hungry for more data? We're working on a public network explorer for DIMO that will allow anyone to follow the project more closely.)
The first cars coming online to DIMO across the US and Canada.
We've seen users collectively log more than 1.1M km of driving since we first allowed people to connect their cars just one month ago.
Product announcements and news with a focus on shipping
We're excited to announce the DIMO Mobile App is coming this month.
DIMO Mobile app coming soon.
The mobile app will become the primary DIMO app for drivers as the web app becomes primarily a fleet and prosumer tool.
The DIMO Mobile app will hit the Apple App Store mid-March. With its launch, drivers will gain access to a new feature we're especially excited for: direct integration with Tesla.
(Android users can expect the Android app to land a few weeks after we launch on iOS.)
This gives most drivers plenty of time to get their car added before the test rewards period begins at the end of March.
To learn more about the mobile app and what to expect, check out the DIMO Driver's page.
Taking DIMO global
Since the early days of DIMO, we've had a passionate fanbase in Europe. So we're excited to share that this month, we'll officially be launching in the EU and the UK!
Read on for the tl;dr on rollout or check out more details here:
Early March
European Vehicle database update – adding makes & models of vehicles sold in the EU + UK
Global iOS mobile app launch with Tesla connect soft launch, Smartcar connectivity launches for Europe
March 14: Shop.DIMO.Zone opens for Europeans with dedicated supply
Late March
Android app launches globally
AutoPi Bluetooth pairing tests and first shipments
Early April
Testnet Rewards will be added to the app (rewards are already being tracked now for users who have connected cars!)
Some final thoughts, asks, and musings
Ask
The biggest bottleneck for DIMO right now is hiring. If you know talented people who would be really excited about building at the intersection of web3 and mobility, we'd love to meet them. You can see open jobs here.
Ask
Help DIMO grow by forwarding this email to someone who has not yet signed up their car! With the mobile app just a week away, it's a great time to bring new drivers to the platform. Forward this email and tell them to scroll to the very bottom where they'll see the "Connect Your Car Now" button.
Ask
Do you go to car club meetups? We would love to hear from you. We're looking to get to know car clubs and car enthusiasts across the country. If you have a meetup to let us know about, you can reply to this email and tell us about your club.
Other News
You might have noticed some slightly different branding in the header…DIMO is rebranding, but we're keeping our catchy name. You may notice some sneak peaks of the branding in some materials, but know that there's a bigger change coming.
Keep in touch
Follow Dimo on Twitter: https://twitter.com/DIMO_Network
Join Dimo on Discord: https://discord.gg/dimonetwork
Check out the Dimo Blog: https://blog.dimo.zone/
Thanks for reading, and if you haven't already: Connect Your Car Now
Just when I thought mining crypto could not get any easier than plugging up a box in my home, the dimo miner project rolls out. The concept is simple. The data from automobiles is valuable for several different automobile related industries. These companies will pay to access this data. When you join Dimo, you can order a gadget that looks much like a oversized flash drive that you plug it into your automobile, and earn crypto while driving. (See video below)

Because of my focus on building out the Helium Network, I heard about this project a few months ago, I immediately read their white paper, and signed up for their updates. The rumor is this project will officially launch in early spring of 2022, but you can go ahead and register your car now, here. Unfortunately the car flash drives are sold out but more are expected to be available to order soon.

Check out the documentation and information below, and if this project makes sense for you, I would suggest that you go ahead and visit the DIMO WEBSITE and get your vehicles registered so you will be notified immediately when the flash drives can be ordered and you can start earning tokens by driving your car.
Here is another video I found. This guy says he is expecting to earn $100 A DAY with this automobile miner. I have no idea if he knows what he is talking about, I am assuming he meant $100 a month. If it was a $100 a day and you had a miner in two cars that would be SIX THOUSAND DOLLARS A MONTH in
income. Personally, I would be happy with $100 a month. The automobile miners sell for around $300 the last time they were available. CLICK HERE TO RESERVE YOUR CAR
Below is the video that put this project on my radar when I first read about it and saw this several months ago. The rumor is the next batch of Dimo automobile miners will be shipped out as early as the end of February 2022 and at that time we will be able to start earning crypto from driving our cars.
CLICK HERE TO RESERVE YOUR CAR
How Much Can You Earn With the Dimo Miner?
The tokenomics of the Dimo project have not been officially released yet. My understanding from the research I have done is the amount of tokens you earn is going to be dependent on several factors including how many miles you drive, the make and model of your automotobile, etc. I have seen projections as high as a $100 a day. That would be awesome, but that sounds more like wishful thinking, however time has shown us that those that jump in early on mining projects that scale usually profit the most. As far as I am concerned, I am willing to risk $600 to get two of these units as soon as they are available for Dawn and myself.

I don't want to throw away $600, but I am convinced the project is legititmate and I will make crypto profits from driving my car, exactly how much is yet to be determined at this point. Below is a Dimo Earnings Chart, but until it is explained in detail I dont want to make any assumptions. The token has not even been issued at this point, so if you are reading this in early February when this article will be published, we are VERY EARLY. My suggestion is to click here, and reserve your car so you can be notified when the dimo automobile miner will be avaialbe. You really have no decison to make until you are notified. I believe that the crypto space will continue to provide unique opportunities for visionary entreprenuers.
My plan is to research as many of these opportunities as possible, eliminate the rug pulls and scams, and get in early on as many projects as I can that appear to make since and have strong use cases. My primary focus for the next 12 – 18 months is building out the Internet of Things network building our IHub Global Team.
UPDATE May 4, 2022
Hello DIMO Community!
What a month it's been since our last newsletter. We're excited to bring you highlight-laden recap of what's been happening in the DIMO-verse. In case you want the short version, here it is:
We shipped BOTH the iOS and Android DIMO Mobile Apps plus a bunch of new features with each. Most notably…
Rewards are live in the app! When you connect a car to DIMO you'll start earning rewards points! You're earning a chance to govern the future of key digital infrastructure for the mobility world.
We delivered the first AutoPis to community members at a stellar event in NYC and we're all set to start shipping devices across the US. The next batch of devices goes out next week!
-DIMO Core Team
Monthly recap of DIMO Network growth with a focus on stats and data from the project.
The big news of the month: the first cars in Europe have been coming online! From the Canary Islands to Bergen, Norway, and from Atlantic Ocean to the Black Sea, we're seeing DIMO drivers take control of their own data.
The Netherlands and Portugal lead the way.
What's the most popular car on DIMO? Glad you asked! Tesla is out in front, followed by Ford and Chevy:
Where are all the Toyotas at? Use your Toyota App and connect to DIMO today.
Product announcements and news with a focus on shipping
The DIMO Mobile app is here, and it's out on Android and Apple! Download DIMO Mobile now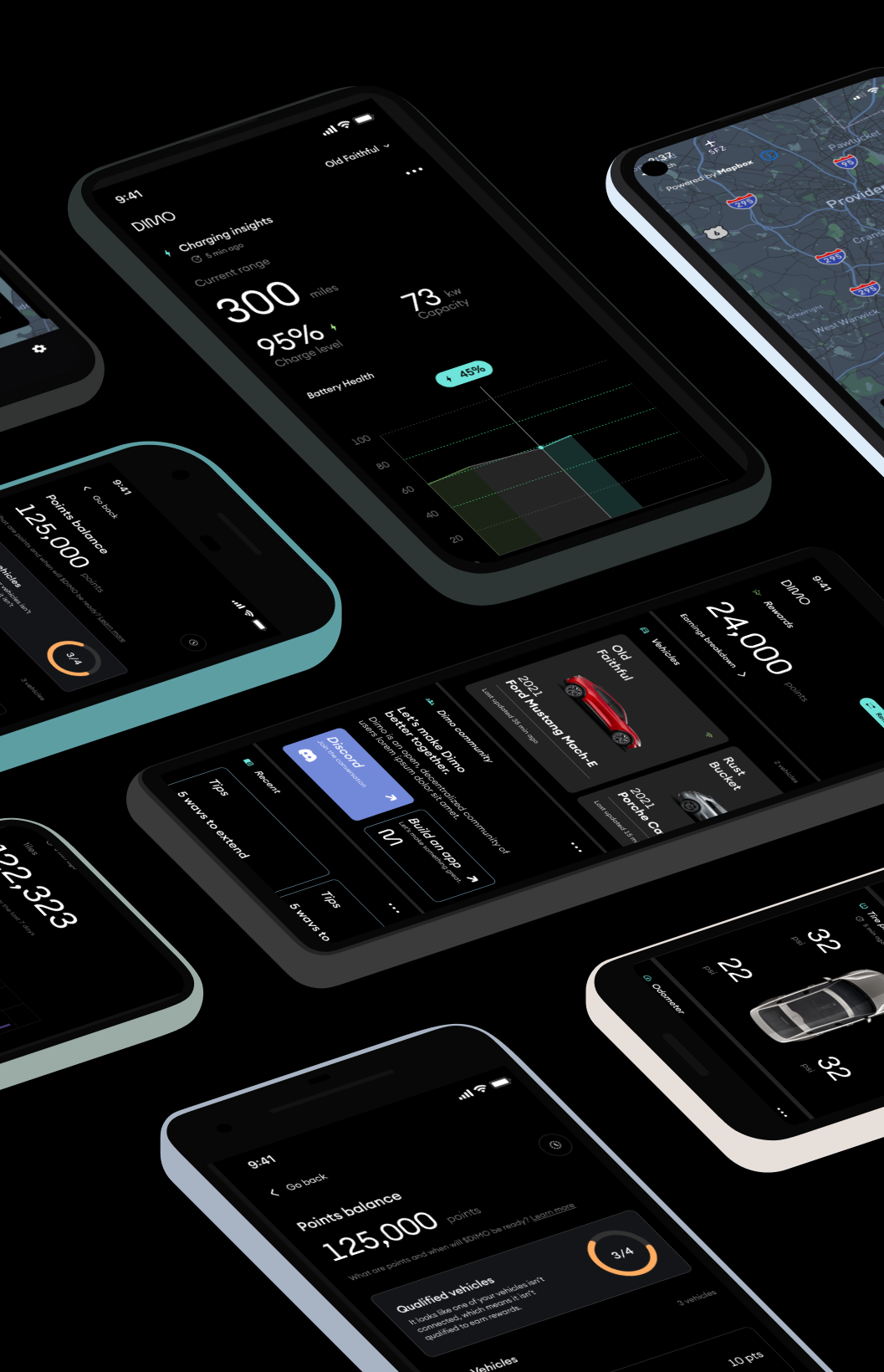 When you download and connect your car you get access to a bunch of great features, even without the hardware:
Privacy protected location
Add multiple vehicles from different OEMs
Collect and store your vehicle data for diagnostics and monetization
Earn rewards for connecting early!
And there's even more great stuff coming soon:
Trip logging
Keyless entry & remote unlock
Access delegation
Maintenance tracking
Digital Glovebox
Mint your car as an NFT
Everyone's favorite subject, explained.
Everyone is excited about earning rewards with DIMO, but that comes with a lot of questions too. We've provided some more information about DIMO rewards in the following blog posts:
Launching DIMO Rewards

Why does DIMO Reward Connected Cars?
Launching AutoPis into space! Just kidding. Launching them to your doorstep.
We're doing the final checks and going to ship the next batch of devices this week! This puts us a little bit behind our planned schedule
, but we should receive enough devices in May to make up for lost time.
As we have noted before, delays will not impact your rewards.
Some final thoughts, asks, and musings
The release of the DIMO Mobile App is huge, and we need your help spreading the word. Please click the button below to initiate a tweet. You can press send right away or make it your own.
Keep in touch
Follow us on Twitter: https://twitter.com/DIMO_Network
Join us on Discord: https://discord.gg/dimonetwork
Check out our Blog: https://blog.dimo.zone/
Thanks for reading, and if you haven't already: Connect Your Car
The Movement is sent to DIMO account holders and people who have given their consent to be contacted by DIMO. For more about how your data is used, please review our Privacy Policy.
UPDATED November 16th
The DIMO Shop Reopens Tomorrow

We hope you're excited about getting started with DIMO. The Shop will open with a limited run tomorrow at approximately Noon EST. 

At around that time, you will receive an email with a unique promo code. This will allow you to order up to two (2) DIMO Devices. It is a single use code, so once it has been used, it cannot be used again. You'll use this code at the last step in the checkout process. 


All the relevant information is explained on the DIMO Device page
 on our Shop. Note a few key things:Waitlist Drop is expected to ship Dec 2022. Only vehicles with model year 2012 and newer are supported.Tesla owners should not order this hardware but connect directly in the DIMO Mobile App.US, CAN, EU, UK, Norway, Switzerland only. Also, feel free to join our active Discord community



here: DIMO Discord
 The DIMO team 
️